I wrote this post back in August, but never got around to posting. Here it is 🙂
Our family recently took a trip to Lake Tahoe. The California wildfires made the views a little hazy, but other than that it was a wonderful trip. Oh, and the baby gets car sick, but other than that, just fabulous. We stayed in South Lake Tahoe and had a plethora of vegan food choices.
We rolled into town around 1pm. After wiping most of the vomit off the seats, our stuff, and the kids we got to relax in the Tahoe keys for a few hours while we waited for the house we were staying at to be ready. It was great. I had a fantastic gluten free, vegan falafel lunch at The Artemis Mediterranean Grill. Later that night we got some insanely delicious gluten free, vegan pizza from Blue Dog Pizza. After that we went shopping at the local grocery store, Holiday Market, and made the majority of our food for the rest of the trip at the house. Holiday Market had a lot of good options, including jackfruit. The only other restaurant we went to was the Vegan Bliss Café. It's an all vegan, soy free restaurant and you can make any meal gluten free as well. It was a small place but the food was amazing. I'm so over the "vegan" restaurants that are just tofu with a side. This place had personality, they made their own veggie patties and sauces. It's a must try.
This was our first trip with a built in baby sitter. My Mom came with us. So I was able to hit the casinos a few times. Loved it. Family outings included a poorly prepared, intense hike in 90 degree heat. Not much water and no map made it interesting. It was nice though because it was just outside the house so we didn't have to drive anywhere. We had to visit the main lake, so we did that Saturday morning, we got lucky on the parking but it was super crowded. After several summer months of swimming lessons, toddler swim, and a local lake I never actually ventured out on my own. I always had a hand on the baby. At the lake I was able to actually go for a swim. It was amazing. It was cold, but amazing. We weren't at Lake Tahoe long, too crowded and hot. Someone told us about a place called Angora Lake and we went on a mission to find it.
We hit a taco joint on the way and were pleasantly surprised to see it was close to our house. Just a few miles but about 30 minutes out. We quickly figured out why. It was in the cuts. The road stayed paved but it was a one lane road with lots of blind turns. The best part was when we suddenly found ourselves on a ridge with steep drop offs on both sides. My brother's girlfriend's 9 year old started freaking out and I was quietly right there with her. It was beautiful yet horrifying. Soon after we arrived at the parking lot. From the parking lot to the lake is another mile hike. We decided to take the Bob stroller, we knew it was a tossup but went for it. We made it but it was touch and go for a minute. Signs entering the lake post warnings of the plaque. Just in case things weren't exciting enough.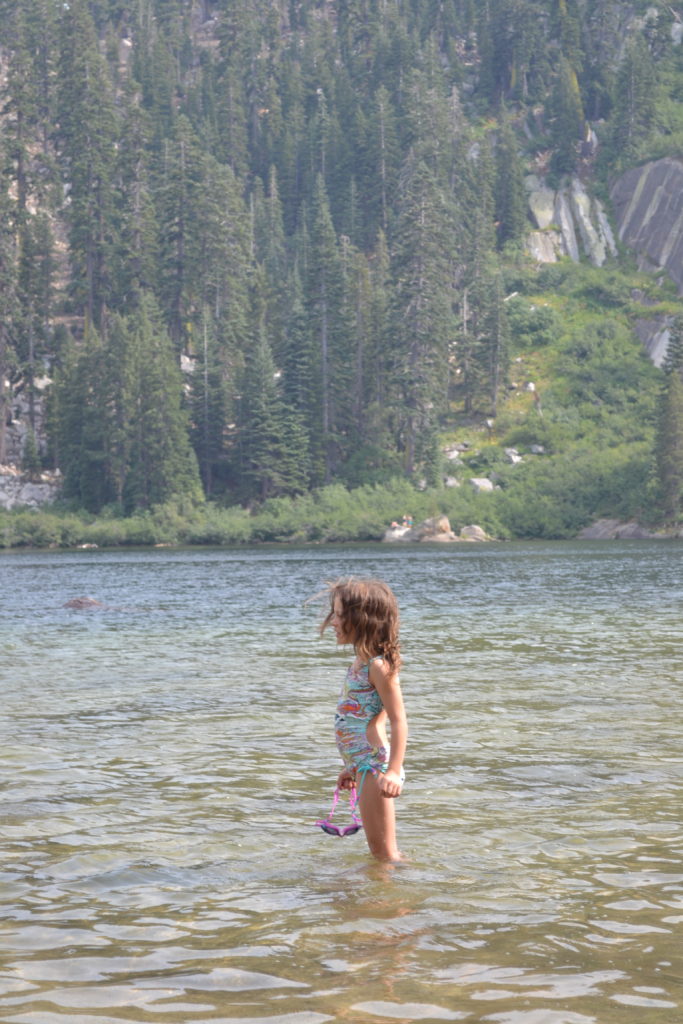 We get there and this place is amaze balls. Clear water, awesome mountain side and best of all, no crowds. We realized we should've just gone here in the morning, but it's nice to try a little bit of everything.
The trip was great. Got to spend quality time with the fam, lots of good food and best of all… it's been over 7 days and no one got the plaque :).